THE FAIR WILL BE HELD IN TWO HOTEL BUILDINGS. CONGRESS OLYMPIK BUILDING AND OLYMPIK HIGH BUILDING.
SPRING SBERATEL FAIR
MARCH
25 – 26, 2022
Hotel buildings Olympik and Olympik Congress Praha
---
How has the year with the pandemic affected the collectors' market?
Profoundly, of course. In particular, it has shown how much collectors and the collectors' market in general miss meetings, fairs and similar events. And the importance of open borders for the life of collectors.
 By definition, virtual fairs or swap meets make no sense to collectors. They cannot have a close look or "feel" the merchandise; moreover, no trader can ever show everything he has in his albums and boxes at a fair on Internet. Adding postage and packaging costs to the price of a single item may make the whole transaction so expensive that it is no longer attractive for the buyer. 
I am of course referring to common articles, not expensive items which, moreover, have recently been discovered by rich investors looking where to invest their money in these uncertain times. It is therefore hardly surprising that the year 2020 saw a number of auction records, mainly in the field of coins and graphic art items, pandemic or no pandemic. However, what percentage of the market do these "collectors" account for? 
Internet and closed borders are pushing prices up
The community of collectors, just like any other community, needs a strong "middle class" to survive. And the middle class needs excitement which can only be experienced when one is rummaging through various articles at the trader, whom one can also enjoy a pleasant chat with while pondering the purchase. The computer screen can hardly be a substitute, although the number of visitors of auction servers has naturally risen by tens of percent.
The problem is that only a specific group of Internet buyers, whose number is limited, competes for items offered on the auction servers. These buyers drive prices up, including articles that would otherwise sell for peanuts at a fair or a swap meet. As a matter of fact, there is a huge segment of collectors who customarily buy at fairs and swap meets, but, for some reasons of their own, would never participate in the "bidding" at Internet auctions.
Another factor contributing to the increase of prices is the overall shortage of merchandise. Because of border crossing restrictions, it cannot be imported, and it is equally difficult to travel abroad to inspect and potentially buy it. And this is exactly one of the principal missions and services offered by fairs and similar international events. Because of the uncertain situation, many collectors also prefer to keep valuable articles in their possession rather than release them to market.
What prospects, then, are the collectors facing?
It is naïve to think that the coronavirus will disappear by the summer. It will remain with us forever; hopefully, the vaccination programme will stop its progress and drive it into a position similar to that of "normal flu". It will no longer swamp hospitals with serious cases and disappear from news programmes of mass media.
Even if the vaccination campaign is successful, we expect the autumn Sberatel/ColIector fair this year will be organized along the same lines as that in 2020 – face masks, limited number of people on the premises, disinfection … But take place it will! The good news is that both foreign and domestic exhibitors want to attend, they are eager to trade and they want to meet their customers and friends personally. And the same applies to the planned first Sberatel/Collector/Antiquarian fair (December 27 and 28, 2021, Olympik Hotel, Prague), which has already been postponed once.
And what is a company organizing fairs, but has been unable to do so for about a year, doing right now?
They have launched an e-shop (www.sberatelshop.cz), not only for collectors, where our exhibitors can offer their merchandise as well. And any collector can join our "Collectors' Clan" loyalty programme and receive not only various special offers, but also regular newsletters and information on different areas of collecting.
We are looking forward to meeting all collectors in person as early as possible, and we believe that the well-known quotation of J.W. Goethe, namely that "Collectors are happy people", holds true even in these difficult times.
---
Due to great interest from exhibitors and visitors, the spring fair will also expand into the hall of the high Olympik Hotel building. You can look forward to more exhibitors! The buildings are only a few tens of meters apart.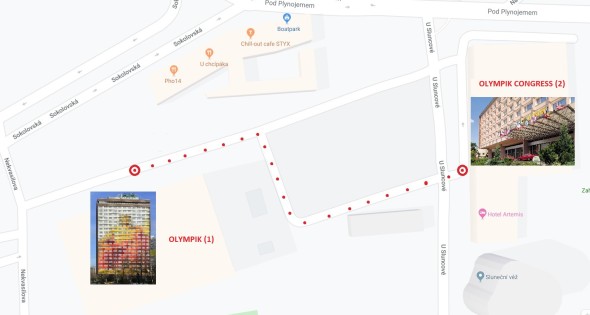 Meet the spring at the Spring Sberatel / Collector fair!
We cordially invite you to the sales exhibition for collectors, which will take place in the conference area of the four-star Olympik Hotel. The Spring Sberatel / Collector is a younger sibling of the traditional Sberatel / Collector fair which we have been organizing for over twenty years in Prague, in the PVA Exhibition Grounds. You will find leading traders in post stamps, coins, banknotes, postcards, and other collector´s items from the Czech Republic and other countries at both events.
Free evaluation!
At the trade fair, you can evaluate your own collections by independent experts from the Czech philatelic union, Czech Numismatic Association and Museum of securities.
Nomeclature
Stamps
Coins
Medals
Bankontes
Postcards
Securities
Vinyls
Other collectibles
Visit the autumn Sberatel / Collector fair as well!
You also should not miss the autumn Sberatel / Collector fair which will take place on September 11 and 12 2020 in the PVA Exhibition Grounds in Prague. The Sberatel /Collector is the largest meeting of collectors of post stamps, coins, banknotes, securities, postcards, minerals, and other collector´s items in Central and Eastern Europe. The event is regularly attended by about 230 exhibitors from 35 countries that offer their goods to more than 10,000 visitors.
You will find more information here