News from the fair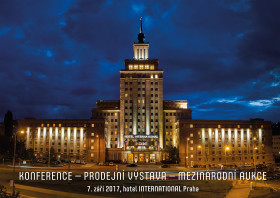 Book a room for a special price in one of the architecturally most interesting hotels in Prague!
Visitors of our two events, Investor Prague Show and Sberatel / Collector fair, are entitled to a special price of EUR 70 for a double room with breakfast in the four-star International Hotel, where the Investor Prague Show will take place (the then most luxurious hotel was built in the 1950s for VIP members of the Communist Party). You can book the room
here
– but hurry up, their number is limited, so you should make up your mind real quick!
Free registration of visitors
Register on-line!
Register on-line and get your ticket, plus a collector´s gift, for just 1 CZK (approx. 0,035 €)!
Buy your ticket to the event on the web from the comfort of your home! There are two benefits – you will pay only CZK 1 for the ticket (it is EUR 3 when you buy it at the gate to the exhibition site) and you will also get a collector´s minicalendar for 2017, with a picture of the post stamp issued by the Czech Post, as a present. The minicalendar is not sold anywhere and you can get it only at the "Sberatel / Collector" fair.
To accomplish your registration, fill a simple form you will then receive an e-mail confirming your registration. You will print it and exchange it for a regular ticket and the gift at the box office. We are looking forward to meeting you!
If you have difficulties registering, please do not hesitate to contact us at: registrace@sberatel.info