News from the fair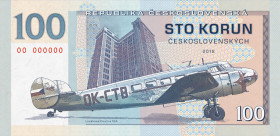 The premiere of a post stamp with the renovated Lockheed Electra 10 A airplane, which the shoemaking tycoon Jan Antonín Baťa was using in the 1930s, or a mock-up of the record-holding gold coin (second largest in the world) weighing 130 kg, which the Czech Mint manufactured for the Czech National Bank – these are just two examples of the rich programme that will accompany this year´s Collector fair throughout its two days. Have a look at the events of this year´s fair – you will find the complete programme
here
.
Free registration of visitors
Register on-line!
Register on-line and get your ticket, plus a collector´s gift, for just 1 CZK (approx. 0,035 €)!
Buy your ticket to the event on the web from the comfort of your home! There are two benefits – you will pay only CZK 1 for the ticket (it is EUR 3 when you buy it at the gate to the exhibition site) and you will also get a collector´s minicalendar for 2020, with a picture of the post stamp issued by the Czech Post, as a present. The minicalendar is not sold anywhere and you can get it only at the "Sberatel / Collector" fair.
To accomplish your registration, fill a simple form you will then receive an e-mail confirming your registration. You will print it and exchange it for a regular ticket and the gift at the box office. We are looking forward to meeting you!
If you have difficulties registering, please do not hesitate to contact us at: registrace@sberatel.info