For visitors
Venue
PVA EXPO PRAHA Letňany
Beranových 667
Praha 9
Opening hours for the general public
9th – 10th. September 2022
(Friday – Saturday)
Friday: 10:00 a.m. – 6:00 p.m.
Saturday: 10:00 a.m. – 4:00 p.m.
* On Thursday from 4 p.m. to 7 p.m. and Friday from 9 a.m. to 6 p.m. you can enter the fair with buyer´s card.
Entrance Fee:
Daily Pass: CZK 100
Buyer Card: CZK 500
Free entry for women!
Free entry for youths (up to 18 years of age)!
You can have your own collector´s items or purity and fineness of precious metals appraised free of charge at the fair. You will find a list of relevant experts here. 
You will find the accompanying programme of the fair here.
You will find information about parallel events in a menu on the main page.
Fairground (2021)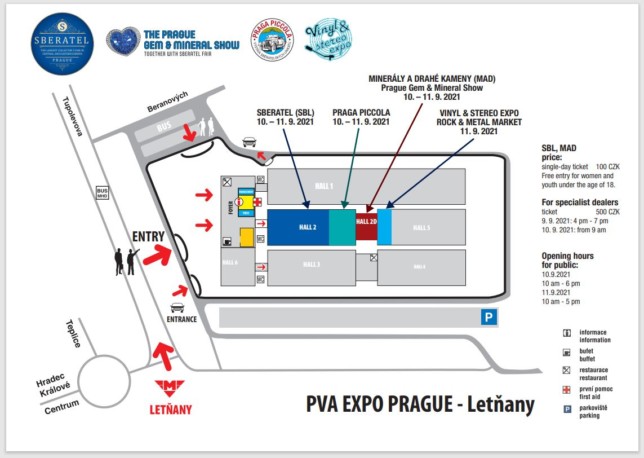 ATMs
ATMs – if you run out of cash, but you do not want the collector´s item that has caught your eye to be "pinched" by someone else, you will find an ATM in the entrance lounge. Another ATM is available in the lounge of the Letňany subway station (aprox. 100 m away from the fairground).